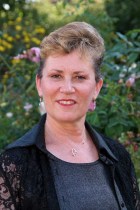 About Me
Hello, please allow me to introduce myself.
My name is Nesta Russell and I am a married woman with three adult children. They each have loving partners of their own and have blessed my husband and me with wonderful grand-children. My parents and family immigrated to Australia in 1960 when I was a young girl, from North Wales, U.K. and now I am a proud Australian Citizen.
My love of ceremonies was the catalyst to my becoming a Celebrant and I also believe in the commitment of marriage. I became a Registered Civil Marriage Celebrant in 1995 and I am also a member of the 'Australian Federation of Civil Celebrants' (A.F.C.C.).
As well as officiating at hundreds of marriage ceremonies, I have also conducted hundreds of other services such as: name-givings, renewal of vows, commitments and celebrations-of-life (funerals).
My commitment and dedication to the services I conduct is paramount to me and I have enjoyed every moment of the vocation I have chosen for my self. For me, conducting these services are a privilege and an honour; each one gives me great personal satisfaction.
Before becoming a Celebrant, I was a receptionist and a service co-ordinator. Also, as a parent (throughout my dedication to caring and nurturing my children), I became deeply involved with their education and personal interests, particularly their sporting activities. I am also very involved and committed to local interests such as tourism and general community activities.