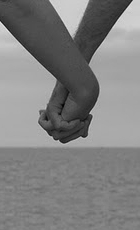 Commitments
My sincere congratulations to you and your partner on your decision to be committed to one another. I know it can be a daunting and exciting time for you but I assure you, it can also be relaxing and enjoyable.
As at present such a ceremony is not recognised in Australasia as a partnership of marriage, it's therefore important you understand there is no legal procedures required for a Commitment Ceremony.
Services designed specially for you
The services I conduct are as individual as the people to whom I conduct them for. I have always strived to present services with complete input from the parties involved, in both their structure and content. Together we can design your ceremony to be passionate, exciting and a pleasant, memorable occasion for yourself and your guests. You can write your own vows as well as other sections to your service and also include your own readings. Alternatively I can offer you ideas and supply material to choose from, to suite your selves.
Free, no obligation meeting
For an initial meeting - at a time and day to suite - with no obligation and no cost, I am happy to see you at your home, my office or a mutual convenient location. If at this meeting you decide you'd like me to conduct your service, then there is a non-refundable deposit of $50 required; to book your time and date for your ceremony. This meeting generally takes around an hour, whereby I outline my ways of conducting your ceremony. I also answer all your questions. Upon payment of the deposit, you are presented with material which will assist you in your choices for your personalised ceremony, including many poems to choose from, for your readings.
What is included for your ceremony
A beautifully prepared Commitment Certificate is presented to the couple.
A decorated table (for signing your certificate on) with coloured covers to suit your ceremony theme and a covered chair.
A portable C.D / tape player, for your choice of ceremony music.
Copies of your complete service in booklet form.
Your choice of readings presented on a scroll, for your reader and as a keepsake.
I also ensure I am personally well presented, in clothing to suit your ceremony style and colour theme.
Also I aim to arrive at your ceremony at least 20-30 minutes prior to your service, allowing time for me to set the scene and prepare for your arrival. This is followed by my clearing the area before my departure, an hour or more later.
The majority of my services take approximately 20 minutes, followed by the signing and presentation of the certificates and also presenting the couple to their guests.
For a nominal fee of $1 / klm one-way, I also travel to your ideal location for your commitment ceremony.