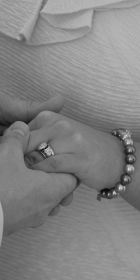 Re-affirmation of Vows
Although circumstances associated with Renewal of Vows Ceremonies are varying, the greater majority are held and associated with the event of a special occasion, most of which are a wedding anniversary.
Renewal (or re-affirmation) of vows ceremonies are generally arranged in the same format as a wedding ceremony but there is one important and major difference: they are not a marriage ceremony. There is no legal significance or obligation in re-affirming your vows. In fact, it's a serious legal offence in such a service, to pretend it's a marriage ceremony, when in fact it's not a marriage.
The renewal of wedding or commitment vows (or any other relationship) at a ceremony, is to celebrate your wish to publicly repeat to each other, the vows of your original service; this is usually done in the presence of family and/or friends. In doing so, a bond and reassurance to each other is declared and your commitment to spending the rest of your lives in this relationship is affirmed through this ceremony.
In this world, where we hear so often of relationships being broken, it is comforting to know there are people who choose to re-affirm their commitment.
Each partner is free to choose their own words for their renewal of vows ceremony, to suit them selves. Or (as in the case of a marriage or commitment ceremony,) to repeat the vows which were spoken in their original service.
The format of a renewal of vows ceremony can be arranged to suit the occasion and any combination of verses may also be used, whether they are suggested by me or are verses of your own personal choosing.