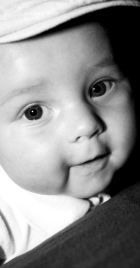 Name Givings
A Name-Giving Ceremony is usually dedicated to a baby or a child, or children. It is used to celebrate the arrival of the child into the family's midst and to outline the role the family has because of this new relationship. However it could also be used for adults and animals.
A name-giving ceremony is similar to a Christening or Baptism but generally doesn't adhere to religious connotations. However similarities are introduced as required, such as a blessing and also the ceremonial announcing of the child's given name. This ceremony can however compliment a similar religious service and does not prohibit the child from having any other such ceremony.
My name-giving ceremonies take approximately 15 minutes, depending on choices to its contents, made by you. These include sections such as:
the naming of the child;
the blessing of the child;
outlining the parents' role and responsibilities in caring and nurturing of the child;
outlining the responsibilities and naming of the Godparents, or Guardians, or Mentors etc. (if required),
outlining the recognition and naming of Grandparents (if required)
also readings; such as poetry
and / or symbolisms, such as candle lighting.
The ceremony is based on a standard service but your choices and variations are encouraged. I also provide suggested poems to use as readings.
At times, symbolisms are used in a special gesture of affection to the child.
Services designed specially for you
The services I conduct are as individual as the people to whom I conduct them for.
I strive to present services with complete input from the parties involved, in both their structure and content.
Together we can design your ceremony to be passionate, exciting and a pleasant, memorable occasion for yourselves and your guests.
Free, no obligation meeting
For an initial meeting - at a time and day to suite – and with no obligation or cost, I am happy to see you at your home, or my office or a mutual convenient location.
If at this meeting (or within an agreed time, shortly thereafter) you decide you would like me to conduct your service, then there is a non-refundable deposit of required to book your time and date for your ceremony. This meeting generally takes up to an hour, whereby I outline my ways of conducting your ceremony and answer all your questions.
Upon payment of the deposit, you are presented with material which will assist you with your choices, including several poems to choose from for your readings.
What is included for your ceremony
The child is presented with a beautiful Name-Giving Certificate, plus certificates for Godparent(s) & Grandparent(s), at the conclusion of your ceremony.
You are also given copies of your complete service, in booklet form.
Your choice of readings is presented on scrolls for your reader(s) and as keepsakes.
I provide a decorated table (for the signing of your name-giving certificate) to blend in with your ceremony's colour theme. (Usually either pink or blue).
I can provide a portable C.D / tape player, if you choose to have ceremonial music.
I ensure you too, that I will be well dressed and presented, in clothing to suit, for the ceremony.
I also aim to arrive at your ceremony at least 15 minutes prior to your service, allowing time for me to set the scene. This is followed on completion, by my clearing the area before my departure.
The majority of my services take approximately 15 minutes, followed by the signing and presentation of the certificates.
For a nominal fee of $1 / klm. one-way, I also travel to your ideal location for your name-giving ceremony.