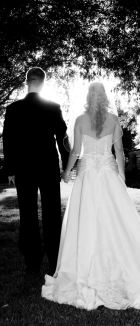 Weddings
My sincere congratulations to you and your partner on your decision to become married. I know it can be a daunting and exciting time for you but I assure you, it can also be relaxing and enjoyable.
Before you decide on your wedding plans, it's important you understand the legal requirements for your actual Marriage Ceremony, within Australia.
You need to choose a 'Registered Marriage Celebrant' (either Civil or Religious) to conduct the ceremony. They are authorised to conduct marriages throughout the Commonwealth of Australasia. They also have a Code of Practice which obliges them to adhere to and ensure that attention is given to the legality and professionalism of any Australian Marriage Ceremony. And they have individually numbered 'Commonwealth of Australia' marriage certificates, which ensure the legality of your marriage.

You must complete the form called a Notice of Intended Marriage (NOIM). In Australia, this form must be filled out and signed by the intended couple in front of certain witnesses, such as a 'Civil Marriage Celebrant' (CMC) and then received by the Celebrant who will conduct your service, at least one month and one day prior to the actual ceremony day. Every registered celebrant will have such a form and they will assist you with filling it out.

This form lasts up to 18 months, so there's no immediate hurry to filling it out, unless you have a time restraint. (There are exceptions to these rules but they are restricted. Therefore I advise you contact a Marriage Celebrant for clarification if you fall within this category.) Be aware that a marriage ceremony conducted in Australasia outside the time restraint may be unlawful. A Registered Marriage Celebrant knows of, and understands the procedures and requirements necessary. And an experienced Celebrant like my self can guide you through these, in complete privacy and confidence.
Services designed specially for you
The services I conduct are as individual as the people to whom I conduct them for. I have always strived to present services with complete input from the parties involved, in both their structure and content. Together we can design your ceremony to be passionate, exciting and a pleasant and memorable occasion for yourselves and your guests. You can write your own vows, as well as other sections to your service and also include your own readings. Alternatively I can offer you ideas and supply you with materials, so you can choose what will suite your selves.
Free, no obligation meeting
For an initial meeting - at a time and day to suite - with no obligation and no cost, I'm happy to see you at your own home or my office, or at a mutual convenient location. If at this meeting you decide you would like me to conduct your service, then a non-refundable deposit is required - to book the time and date for your ceremony.
This meeting takes around two hours, as I inform you of your legal requirements and also assist you in filling out the NOIM. Further, I outline my ways of conducting your ceremony and I also answer all your questions. Upon payment of the deposit, I present you with material to assist you in your choices for your personalised ceremony, including several poems to choose from, for your readings.
What is included for your ceremony
A beautifully presented legal Marriage Certificate, for the couple to keep.
The legal Certificate of Marriage (to registering your marriage at Births, Deaths and Marriages).
I can also arrange for a certified copy of your Marriage Certificate after the ceremony, enabling you to change your surname on all your legal documents.
Copies of your complete service in booklet form.
Your choice of readings, presented on a scroll for your reader, and as a keepsake.
A decorated table with coloured covers to suit your wedding theme, (for signing of your certificates on at the ceremony) also a covered chair to match. (If required).
A portable C.D. / tape player, for your choice of bridal music. (If required).
I also ensure that I am personally well presented in clothing to suit your wedding style and colour theme.
I aim to arrive at your ceremony at least 20-30 minutes prior to your service, allowing time for me to set the scene and prepare for your arrival.
The majority of my services take approximately 20 minutes, followed by the signing of certificates and presentation of the newly married couple, to their guests.